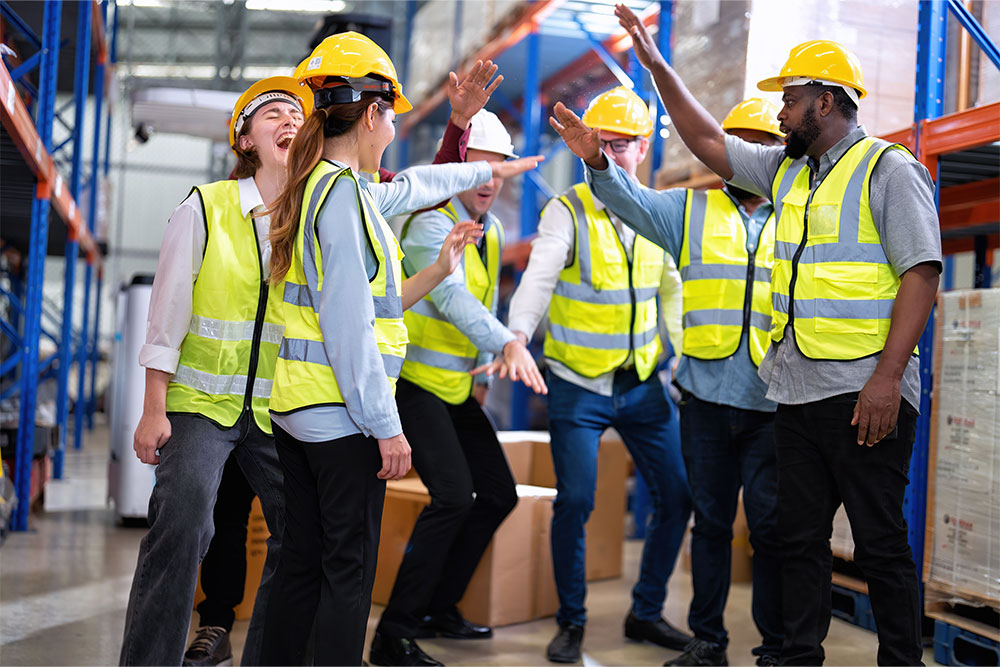 Life has changed quite a bit over the last three years. We have lived through a global pandemic, battered by sky-high interest rates and a cost-of-living crisis. All of this has significantly impacted our morale, both personally and professionally.
As an employer, there isn't much you can do to improve life outside of work, but there are many ways to boost employee morale in the workplace. Start today. This blog looks at 10 things you can do to improve morale.
The Impact of Positive Employee Morale
When we feel positive, we are ready to take on the world. The same goes for when we feel good at work. We are more productive, enjoy and are better at what we do. And positivity is infectious, so one positive and happier employee can lead to two, then three, and…you get the idea.
Good employee morale contributes to the following:
Higher productivity levels and better-quality work
Greater teamwork and team spirit
Reduced absenteeism
Fewer accidents
More engaged workers
Common Causes of Low Employee Morale
In contrast, here are some common causes of low employee morale:
Ineffective communication
Poor leadership
Little to no opportunities to grow
High accident/incident levels
Toxic work culture
Lack of recognition
Too many internal changes
Lack of flexibility
If your workplace suffers from the points above, not only will you see increased absenteeism levels, but if prospective job candidates get wind of it, they may decide not to apply to work for you.
10 Effective Ways to Boost Employee Morale
We've compiled a list of 10 ways for boosting team morale and creating a workplace where your employees thrive.
1. Showcase Company Benefits from the Start
Start by delivering a winning onboarding experience. It can be daunting for a new joiner at the start of a new job. And a lousy induction can lead to new recruits quitting soon after joining.
A survey by Paychex, a US-based payroll and human resources provider, found that 50% of newly hired employees planned to quit within weeks of joining a new company. Some 63% of those surveyed were remote workers.
First impressions count, so look to improve the onboard experience at your company to make a positive impact on employee engagement.
2. Communicate
It's essential to communicate with employees. Not just about company results and year-to-date growth but about things that are important to them. Like new health and wellness initiatives, training opportunities or even more severe matters like redundancies and cutbacks – employees who are in the know feel more empowered.
3. Listen to Employees
Communication is a two-way process. Listen to employees' concerns and suggestions and act to address the issues. It shows you value their input. Employees who feel valued do a better job. Provide them with methods to give feedback, including informal discussions and general input or reporting sessions. Be sure to respond promptly to demonstrate you are listening, regardless of whether or not you act on their input.
4. Be Flexible
Offering flexible working allows employees to achieve a sense of work-life harmony. Whether it's flexible working hours or choosing where to work – home or the office; giving employees a choice will always go down well.
5. Keep Employees Safe
Feeling unsafe while working is a surefire way to bring down employee morale. Knowing that the working environment is safe and you care about their safety will give employees peace of mind. If staff are fearful, they are more likely to underperform, work cautiously, or find a job elsewhere.
6. Invest in Employee Development
Knowing there is an opportunity to grow and develop keeps your workforce motivated. Investing in professional and personal development gives employees a sense of purpose. And better-trained employees are not only more confident in their roles, they are more productive.
7. Foster a Healthy Workplace Culture
Good employee morale is the result of a healthy working culture. Having a positive work culture takes effort, but it's worthwhile.
Positive work cultures include:
A no-blame culture
Employee engagement
Recognition for work well done
Opportunities to develop
Health and well-being benefits
8. Optimise Team Building Activities
Everyone must share the same vision and purpose for a team to perform well. But issues like leadership and management changes, introducing new work tasks or team members leaving can cause morale to dip.
Team building activities can help boost team morale because they are fun, collaborative and encourage everyone to work together. They also allow employees to learn more about colleagues in a relaxed, chilled environment.
Don't forget about remote workers, though. Scheduling a team-building exercise that is fun and engaging will make them feel valued and not forgotten about.
9. Provide Recognition
Recognise employees and teams for their hard work. When all hands are needed on deck, the pressure can be stressful. Employees may suffer from low moods or little motivation as a result. But when a successful job is done, a sense of achievement can be further boosted with recognition for their contribution.
Don't forget about those leaving. Let those departing the company and employees on short-term leave, such as maternity and paternity leave, know their work has been appreciated and will be missed.
When they walk out the door, they will do so with a smile and have good things to say about the company. If they are returning, it will be a more positive experience and less daunting.
10. Provide Management Training
Managers and supervisors are in a great position to influence team morale. Train them with the right tools to motivate and lead their team members. Management training will educate them on how to spot when morale may be declining and how to bring it back up again.
Leading by Example Boosts Morale
Being a leader is about setting examples for employees. To do this, leaders inspire, support and encourage workers. Good leaders show empathy and appreciation. They talk directly to the workforce and even take time to work alongside them, to understand their challenges and how they contribute to the business.
Leading by example, practising what is preached and, at times, rolling up the shirt sleeves to muck in is a great way to boost morale. And it doesn't cost much.
Boost Your Workplace Morale Today
Prevention is better than cure. Don't wait until employees start calling in sick from burnout or handing in their notice. Check how they're feeling with a stress risk assessment.
Not only do they help employers measure morale levels, but they also help recognise when stress may pose a serious risk to employee health and productivity. Don't know how to carry out a stress risk assessment? Not to worry, we have an e-learning stress risk assessment training course that teaches you exactly how.